To mess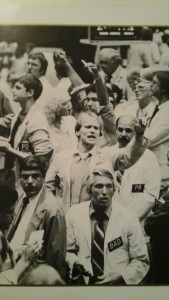 ——————————————————————————————————–
Alan,
Thank you for showing me your work. This is really a compilation of complex mathematical modeling of the highest magnitude. Very valuable to the seasoned trader.
This is a great "black box" investigation of these geek lines. They identify certain technical traits of the price prediction pattern. This is what I gather by reviewing this chart pattern. My guess:
The "lavender" line found on the tops of the chart is the trending prediction of the Highs of the contract. Whereas the charcoal black line at the bottom of the chart reveals the Lows of this contract price.
The "xxxxxxxx" in beige is a short term average of the commodity based on a "interval breakout" and this "xxxxxxx" line is started at the lowest volume point of the contract identifying the point of probable mutual agreement between the Longs and Shorts.
The lavender shaded columns -(opps) a candlestick "identifies" a very strong technical indicator, the "- – – – – Candlestick" that is what traders look for in a reversal, if it is associated with volume. I use this and wrote about it in my email last night as an indicator for decision making.
Interestingly, I think this program is incorporating angles in the price patterns, which is really excellent. This angle then becomes more specific to price prediction.
In angles used, I think they use the 47 degree, which is an extremely occult mathematical calculation of Pythagoras and used in the mathematical understanding of Masonry, the Masonic order and the Illuminati. Pythagorean theorem. It coincides with the 47 degree of Euclid, again secret Masonic reference and basis of mathematics.
Alan, this is quite exciting what you have. It incorporates so many valuable mathematical analysis that are known by only the most sophisticated technical traders. I hope to continue exploring this if you could share more with me.
All the best, Membership Levels
Taras
M.D.
Medicine & Rehab
---